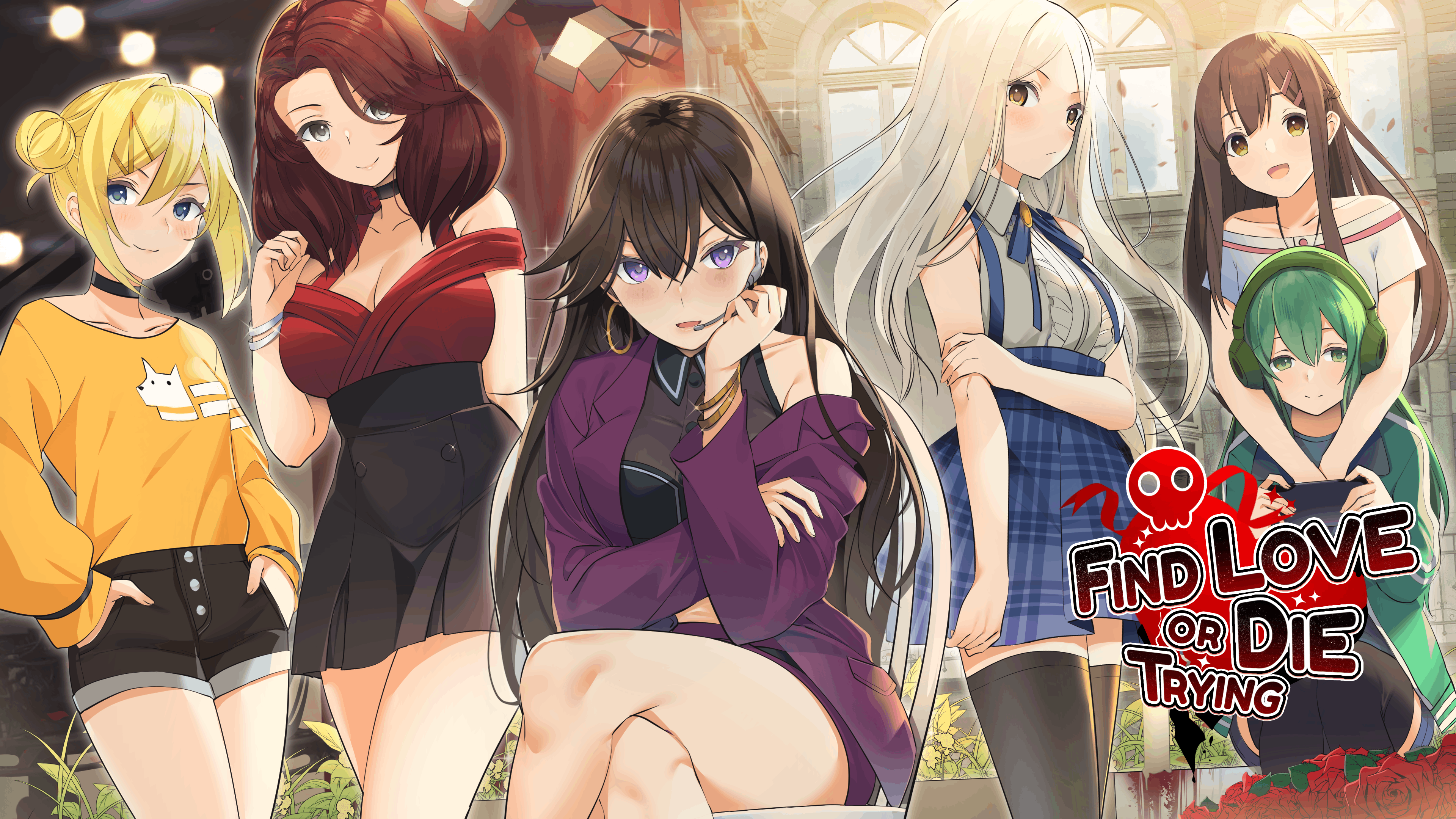 Find Love or Die Trying
A downloadable game for Windows and macOS
I'm your host Kat, and this is Find Love or Die Trying!
It's the premiere of our new dating show, where ending up single... means ending up dead! Not sure why you'd sign up for this, but now that you're here, you've got 7 days to get one of the lovely ladies on your tropical island getaway to fall in love in with you. If she's willing to put a ring on it, you're both free to leave. If not... well, it's in the name of the show!
You'll get the chance to meet:
Allie, the daredevil athlete with a rebellious streak
Scarlett, the charming scientist with a penchant for destruction
Violet, the cold-as-ice scion of a mysterious MegaCorp
Terra, the eccentric gamer who marches to her own drum
Yui, the childhood sweetheart with a smile that could melt ice
...And last, but definitely not least, me! Kat! The impossibly perfect and painfully gorgeous host and producer. Did I forget to mention generous? I'll be helping you get those romantic connections going, so you better be grateful!
Then again, my bonus is tied to the ratings, and not you surviving the show, so... Hm.
Anyway....
I can't wait to start filming our first episode together!
Features
7 Endings
4+ hours for a complete play-through
Original story and art
Play as a male, female, or non-binary protagonist
Available for Mac and PC
Foreword
Hi, I'm Auden Jin, the writer and producer of Find Love or Die Trying.
I like to write stories that are strange, but this one was weird even by my standards. I first came up with the story idea as a joke: "What if a Western Dating TV Show was more like a Japanese Battle Royale Game?" I had never expected the idea to go anywhere, but a year later, that same idea has been realized in a game with over 4+ hours full of romance, comedy, and crazy antics!
I hope you come to love the story and its wacky characters as I do.
Find Love or Die Trying is 100% free, but you can support me if you'd like by contributing any amount.
If you contribute $10 or more, you'll receive the Fan Pack, with over 30+ HQ wallpapers, 40+ songs with over 5+ original songs, behind-the-scenes concept art and development notes, and of course, my gratitude for helping me make more games!
Social Media
My Twitter and YouTube. I'm most active on Twitter. Hang out with us on the Discord!
Feel free to send me a message, I would love to chat!
Download
Click download now to get access to the following files:
Find Love or Die Trying by Auden Jin (PC).zip
880 MB
Find Love or Die Trying by Auden Jin (Mac).zip
889 MB
Find Love or Die Trying Fan Pack.zip
831 MB
if you pay $9.99 USD or more